Super Moderator
Staff member
Community Manager
Update to version 8.167
Dear Community,
Our new update to version 8.167 will be released on Monday, May 6.
This page includes some minor quality of life improvements as well as bugfixes.
Changes and Improvements
Clarification to Rule 3.6
The game rule §3.6 has received an addition to clarify that the disclosure of personal information is of course also forbidden in regards to the private information of others. The new text is as follows:
"Players are not allowed to share their or third party's personal information with others, as it might be used to compromise their account or in otherwise illegitimate ways."
Stronghold Advantages
We included a pop-up to the stronghold screen which explains the bonuses having a stronghold gives as well the advantages the tribe will gain when upgrading it.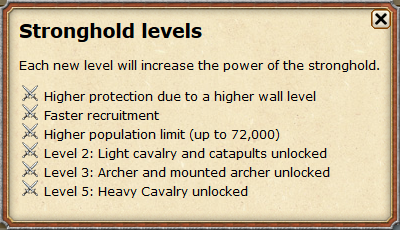 Tribe Skills Prestige
A info pop-up has been added to the Tribe Skills window, displaying the current and future amount of prestige the player will get.

Bugfixes
Tribe Quest Push Notifications
We fixed an issue which prevented the setting for managing the Tribe Quest Push Notifications to safe properly.
Stronghold Coins
Under som circumstances it was possible that the report for destroying a stronghold level was showing a wrong amount of gold coins. This should not happen anymore.
Feedback
If you want to share your feedback with us, you can do so in
this thread
below this announcement.
The Tribal Wars Team