Super Moderator
Staff member
Community Manager
Update to version 8.168
Dear Community,
Our new update to version 8.168 will be released on Tuesday, May 14.
This update includes a game rule improvement and some quality of life improvements for the game.
Changes and Improvements
Clarification to Rule 4.8
The game rule §4.8 (regarding Account Sitting) has received some changes to make it more clear what the conditions and implications of a rule-breach are; to bring it more in line with and better explain how our support teams are dealing with these cases. The rule now reads as follows:
"If the "Account Sitting" feature is used the account owner is solely responsible for the selection of the sitter and it is assumed that the sitter is in general acting with his/her consent. This applies to any change done to (or by) the account while the account sitting is active. Individual or repetitive misuse of sitting may lead to punishments to all involved accounts. It is at the Support Team's discretion to define misuse on a case-by-case basis."
Stronghold Tribe Participation
The stronghold screen now includes information on the amount if resources individual tribe members sent. This overview can be filtered for an overall amount or the last seven days.

AND/OR Battle Reports
Battle report filters now have an AND/OR option, to allow for more and finer filtering options.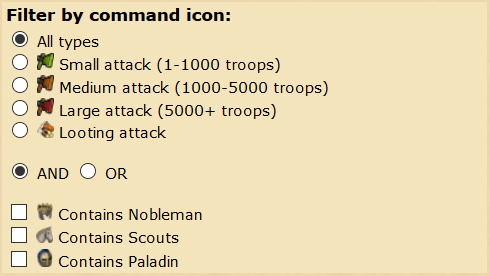 Total Units Overview
The units overview screen now includes a row for all units. These are all units in the village, including own troops outside of the village, own troops supporting the village as well as other players' supporting troops.

Addition to public settings overview
We added the information if tribe members can be attacked or not to the public settings overview for each world.
Traveling Merchant Milestones
If a player does not collect the milestone rewards in the Traveling Merchant event, they will now be collected automatically when the event ends.
Feedback
If you want to share your feedback with us, you can do so in
this thread
..
The Tribal Wars Team