I don't have time to format all this right now, but here's the pre-reset history and the forums history. PM me if there are any mistakes or anything needs a correction!
History of World 1: US server
Pre-reset World 1:
Once upon a time on MAy 19, 2010, there was a land of fairies and unicorns where the barb noblers could live happily ever after, where the noobs could grow easily without any opposition; a land where farming disputes were nonexistant. What is this mythical place? US pre-reset world 1.
First of all, how did this come to be? In the original creation of this server, hoodoo, the lone in-game-staff member had made a major mistake in the world 1 setup. Instead of a typical 1-2 barbs per player, there was an astonishing 61.635 barbs PER PLAYER!
Number of players: 1.006
Total villages: 61.635 (61.27 per player)

WTF??
61 barbarians per player??
That's ridiculous...
Now since hoodoo had never personally joined the world and was the only staff, it took a few days to realize just what had happened. Not realizing the problem soon enough resulted in a world restart on May 24, 2010 at approximately 8:45 server time; the first ever to be reset other than speeds, high performance and beta servers. Many players were displeased by this, and some even quit. For example, vanlex, a former rank 1 holder, didn't even get back to 100 points because he was so upset. Others left, and new members joined. Personally, I think in the end it will all come out fine. (although the hours I wasted farming will never be returned
) Here are some other opinions on the restart-
I first thought that things will be interesting with so many Barbarian Villages around me. Farming will be easier, but nobling those Barbarian Villages will be no fun at all. But, I kept going as the World progress. For the reason that this is entirely different from other Game Worlds. Changing my Game Plan is a must, and thinking ahead will be challenging with the Barbarian Villages devouring the World.

Sadly, the World full of Barbarian Villages ended today.[/B]
After some days with the map full of barbarians the server restarted.Some were happy,other weren't.But I was.There were 50 K of barbarians and only 2000 players.In my case the closest player was at 15 hours wit axes and 30 with noble!!!It's better this way.
Inevitably, the world was made fresh and all was well. This did however please some players because they got a chance to start over at the beginning of the world instead of being stuck three days behind.
Long story short here, everyone went on with their lives and farmed, farmed, farmed.
The Externals (a.k.a. The Forums)
As I stated earlier, for a time, hoodoo was the only in-game-staff, and he had much to do. Consequently, the forums became a haven for spam and immodesty. Players were creating "post trains" in an attempt to max their post count. (I'll be honest, I participated
) The F-bomb was everywhere and a relevant threat was buried in all the spam. Seeing the problem, hoodoo took action and began recruiting mods. The first mod was nuazhror, a firm poster who had given up his career as a spammer and took up justice. Within a few hours, (or days, I cannot recall) several players were banned and many received infracts. Luckily for those who managed to survive this purging, the off-topic was open to spam (Halleluia!) Many spammers still spend their time their, trolling around, finding whatever threads have new posts in them so they can sneak in and give their two cents opinion.
In another aspect, the forums setup and layout also underwent several changes. Originally, several concepts such as groups and "players' walls" were introduced and were very popular. Also, a system which gave you titles based on post counts were involved. It is possible that this contributed to the change since people were spamming so much for the next title, but I'll never know. Eventually, the groups were eliminated, and you could no longer post publicly about the player on their profile. Finally, the title system was changed to the reputation system which I'm still trying to understand.
World 1; Pre-noble
Where to begin... Being a very small world with under 5000 players for a very long time, the world spanned 4 continents, 44, 54, 45, and 55. For some reason, less people joined 45 and 54, and consequently these K's were much more sparsely populated than K's 44 and 55. In K44, the dominant tribe was the infamous mass recruiting family, K.Y. In K45, it varied because tribes would rise and dissapear quite often. In K54... well, there's never really been a dominant tribe there, just little ones. Finally, In K55, the dominant tribe was |HL|.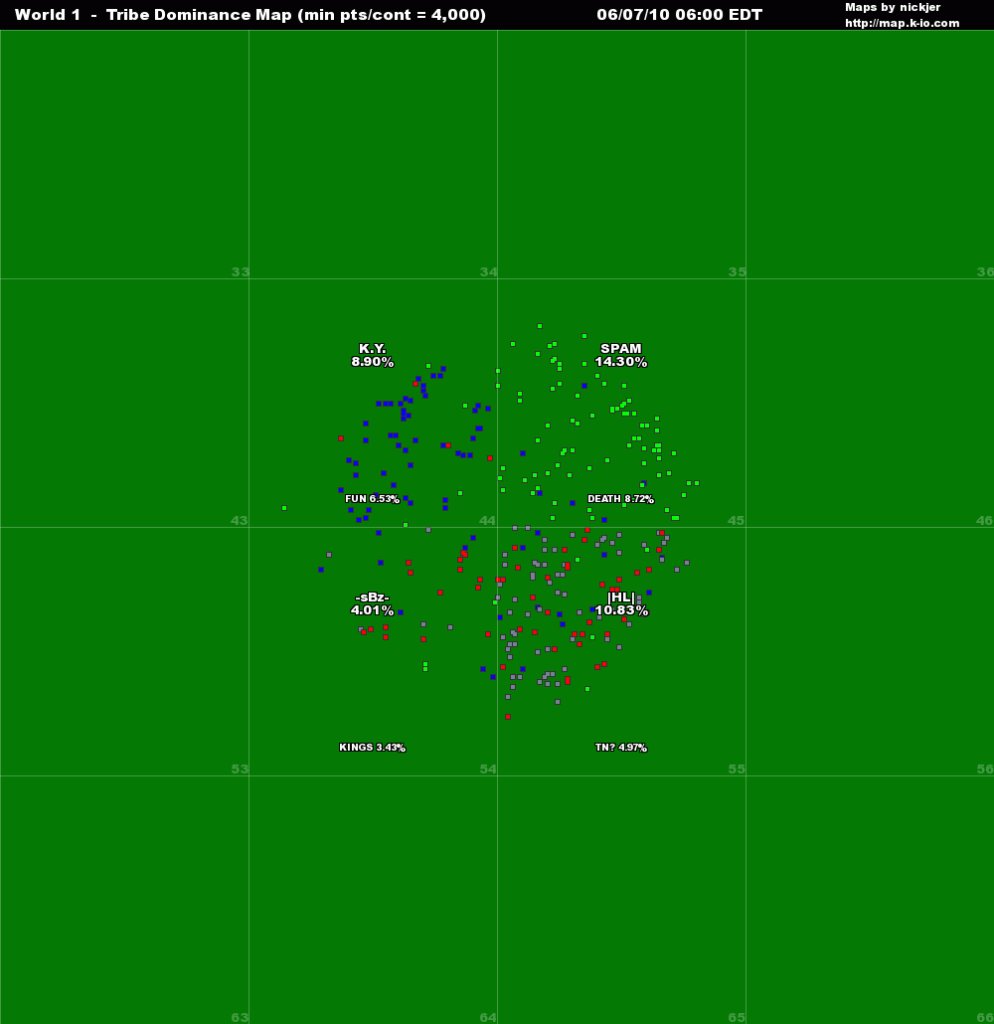 Several tribes were fighting over the right to claim the "highest average per player" award, most prominently Pro. and Cake. (I regrettably don't have a map for that time) Eventually Pro. disbanded and split up, I believe mostly to join Death. (confirmation?) After this, Cake. was absolutely dominating the world in virtually every aspect from player dominance to ODA ranks. This was a cause of Blaziken, the duke of cake., recruiting virtually all the top 10 members. At it's peak, Cake. had the top 8 players in it simultaneously.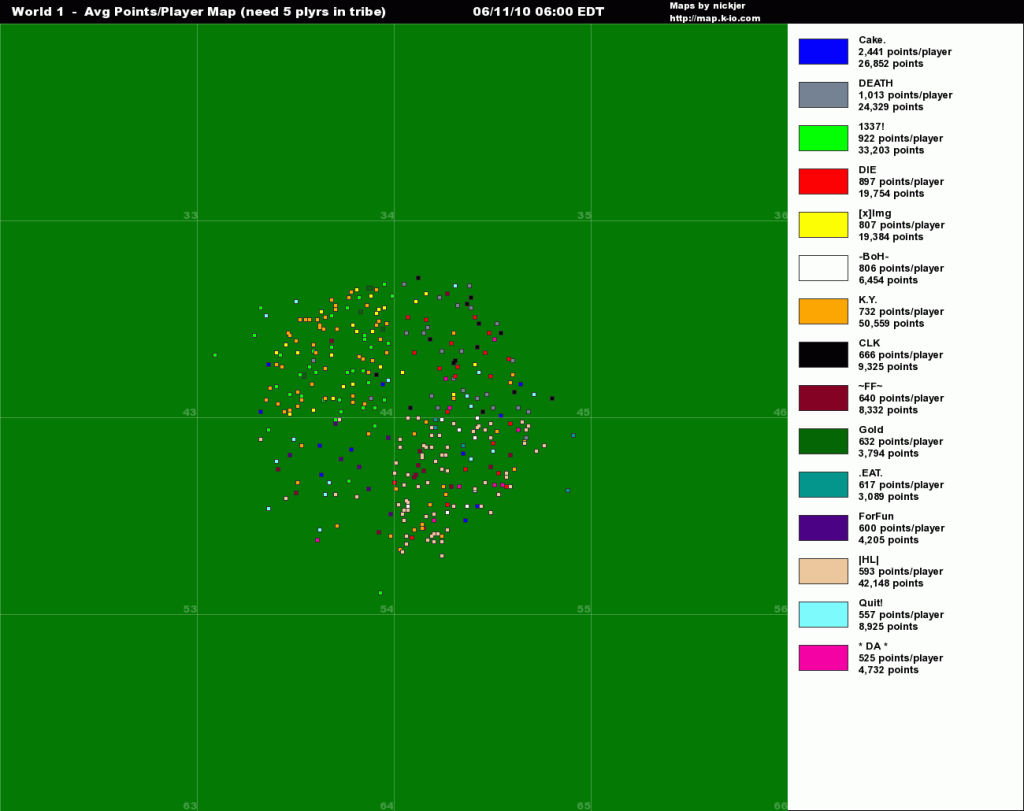 Gradually, in K44, the tribe 1337! took over, and in K45, the tribe Rabbit took control. This map is the last day before -Reggi nobled the first village of the world thus ending the pre-noble stage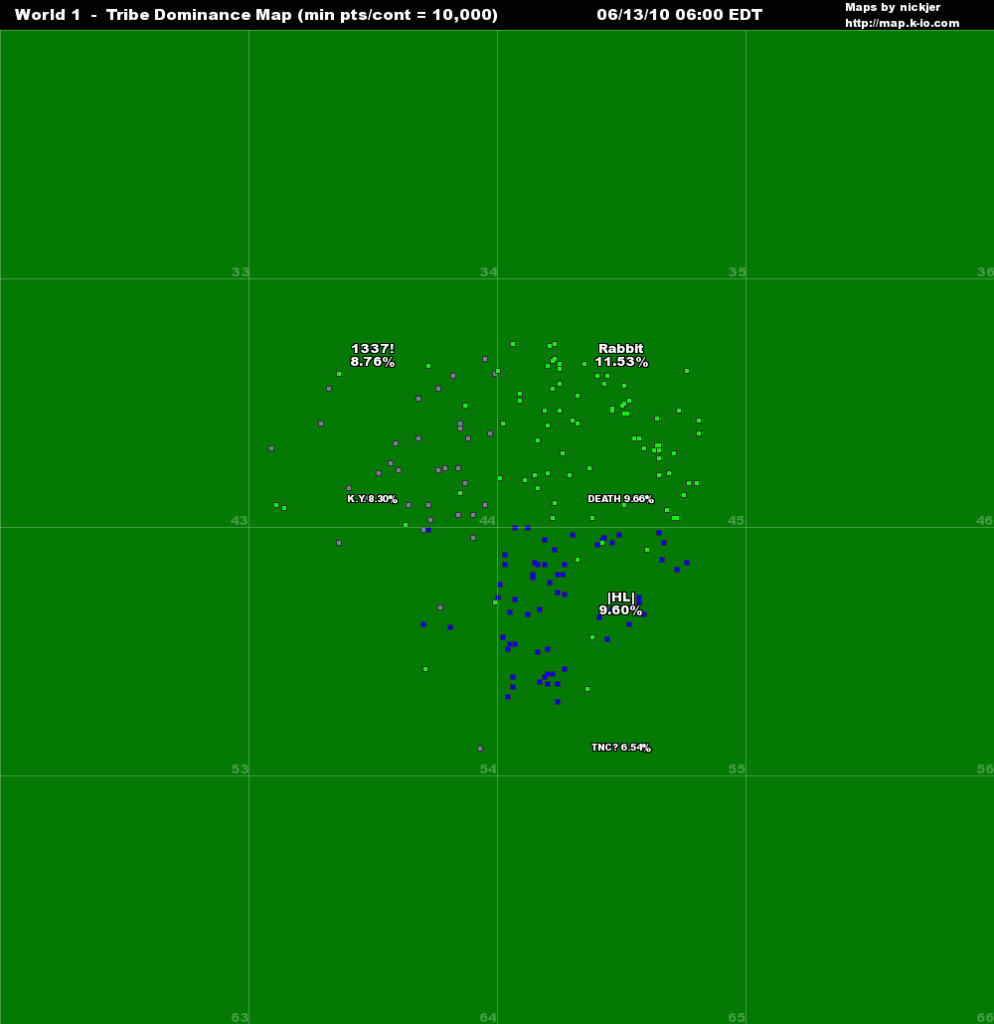 World 1; Early Dominance
After the Pre-noble stage of the world ended, several tribes started picking up steam, namely 1337! and Death. In the meantime, the tribe Ego? had been founded by Chris2218 after Cake.'s downfall. Several former Cake. members joined and soon thereafter, Ego? was in the race for the top alongside Death and 1337! with less than 10 members. (MagicX doesn't really count as a tribe with potential so I didn't mention it
)
Several other tribes, such as |HL| Aster and TNC? gradually wore down to a point they were hardly remembered. Players nobled, the world expanded, and players nobled some more.
After a while, only two players stood out; Chris2218 and Jonniknoxville. They dominated first and second place without any competition. After a while, however, Jonniknoxville was temporarily banned and lost the second place position to, yours truly.
(This map is his last day as second
)
Eventually, the tribes 1337! and Death decided to merge, and it was clear that the only two tribes with any potential were 1337! and Ego?.
DISCLAIMER
Being the lazy noob that I am, I have put off updating this for two months, so bear with me if anything is innaccurate. (Who am I kidding, I'm always accurate
)

Anyways, I will divide the past two months into 2 sections to keep the length of each one down.
World 1; Early-Mid Dominance (Part 1)
One month has passed, and, well, let's be honest, not much has changed in any way whatsoever. 1337! and Ego? are still dominating every K without competition. That is, until August 8th. Up to this point, this is the most major event in the entire world, rivaling that of the reset; due to RL problems, the duke of 1337! could no longer play. Not thinking that anyone could take over effectively, Diiamond instead disbanded the #1 tribe in the world, shattering all boundaries that Ego? had to grow.
Instead, now various tribes with, well, let's face it, no potential whatsoever, gained control of the K's that 1337! once owned.
Now that all possibilites of a war with Ego? vs. 1337! (the talk of the world at the time) would no longer be possible. Instead, a number of top players decided they'd quit, including Mortisrex and Diiamond, both top 5 members at the time.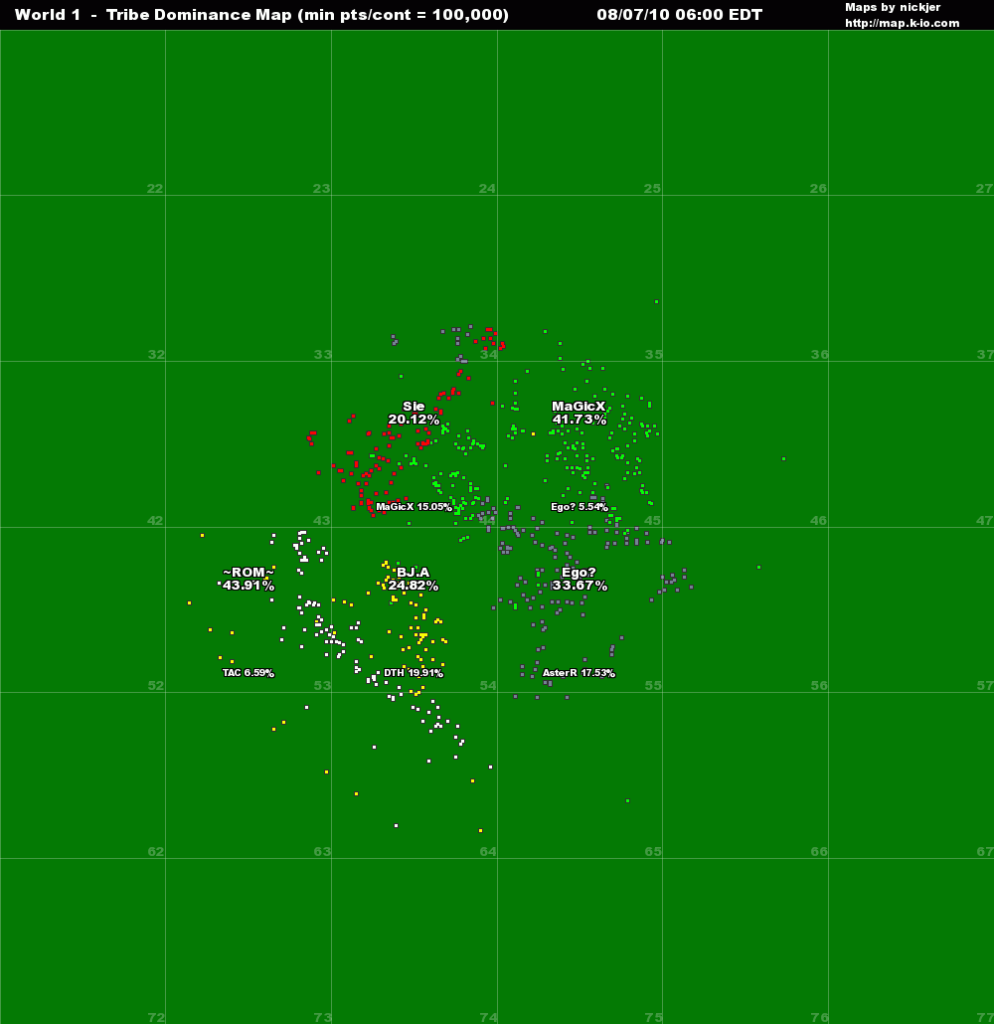 The various members went their seperate ways, some quitting, and some joining Sie, the now K44 dominating tribe. This event drastically shifted the world out of balance and now Ego? had total control without competition. (don't be fooled by MagicX, they are still just the world's mass-recruiter-pointwhores
)
World 1; Early-Mid Dominance (Part 2)
Now that this major shift has caught the world off-guard, it will take some time for it to start to regain its balance. However, that's still a LONG ways off, so let's jump forward in time another month...
Allow me to explain what has happened since we last spoke; I'll start with K45 and move counter-clockwise.
K45
-In K45, since it's top member, Mortisrex quit, MagicX was free to do a butt-load of barb nobling, and thus greatly filled in their territory in K45. In the South, Ego? was slowly pushing their way into the continent while Sie gradually forced their way from the west. However, something dramatic is happening in throughout the world... what's this I see??? several tribes OUTSIDE of the core continents are starting to form!!! It only took about 3 months to happen, but the core continents are no longer the only K's that are now involved in the world!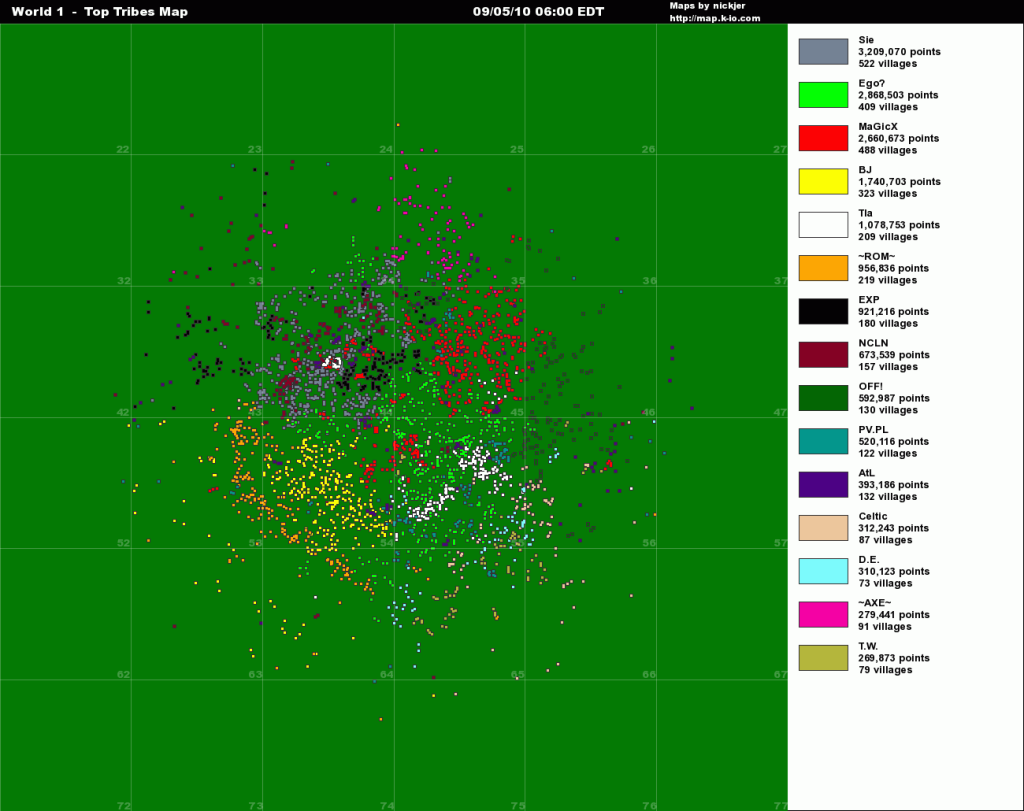 In K44
, the tribe Sie has taken in virually all of the former 1337! members and is quickly taking its place lead by VeNoM. I am not absolutely certain, but as I understand, Sie declared war on MagicX, and crushed their hold on the west of K45. (*cough* they recruited their largest members *cough*
)
Other than that, very little happened in that K other than the tribe EXP began to grow starting on the K44-45 border.
Now to 54
; Being the lame-ass, boring, most sparse K in the world, virtually nothing has happened there except a few tribes are still vying for dominance. Well, that's all that matters, so I'll move on now...
Finally to K55
-K 55 is obviously still Ego's homeland, although there has at least been some action over the past month. Ego?, getting sick of Tla's presence in their continent declared war on tla and, well...
Side 1:
Tribes: Ego?
Side 2:
Tribes: Tla
Timeframe:
Last month
Total conquers:
Side 1:
256
Side 2:
136
Difference:
120
Total conquers against opposite side:
Side 1:
36
Side 2:
0
Difference:
36
Points value of total conquers:
Side 1:
1,094,870
Side 2:
384,967
Difference:
709,903
Points value of total conquers against opposite side:
Side 1:
210,644
Side 2:
0
Difference:
210,644
Let's just say it was a slaughter
Now that tla had been removed from the picture, Ego? was the only tribe with any significant dominance in K55.
As usual, if I have stated anything innaccurately or have missed anything imprtant that you would like me to add, PLEASE, PLEASE, PLEASE tell me so I can fix it asap.
World 1; Next 4-5 weeks
Zzzzzzzzzzzzzzzzzzzzzzzzzzzzz........
World 1; War (Sie/EXP/Ego? -- Part 1)
As you've all been waiting for, it finally began. The first major war in world 1, Ego? Vs. Sie / EXP.
Sie, Exp, NCLN vs. Ego?
Sounds exciting and all, but the war started as Ego? attacking Thorjan while Sie attacked -Flavour* which turned out to be quite boring. (EXP was faking, and I have no clue who, where, or what NCLN was doing the whole time)
Anyways, -Flavour*'s account had been sat for some weeks prior to the war, and now, since he had not returned, Ego? decided to abandon any efforts on protecting his account and changed their approach to a more offensive strategy.
In the meantime, EXP was sitting on the sidelines sending, yet more, fakes. Getting irritated with the instructions, "SEND MORE FAKES!!!" EXP decided to switch sides and allied with Ego? instead.
Therefore, we needed to make a NEW thread in the forums
Exp, Ego? vs. Sie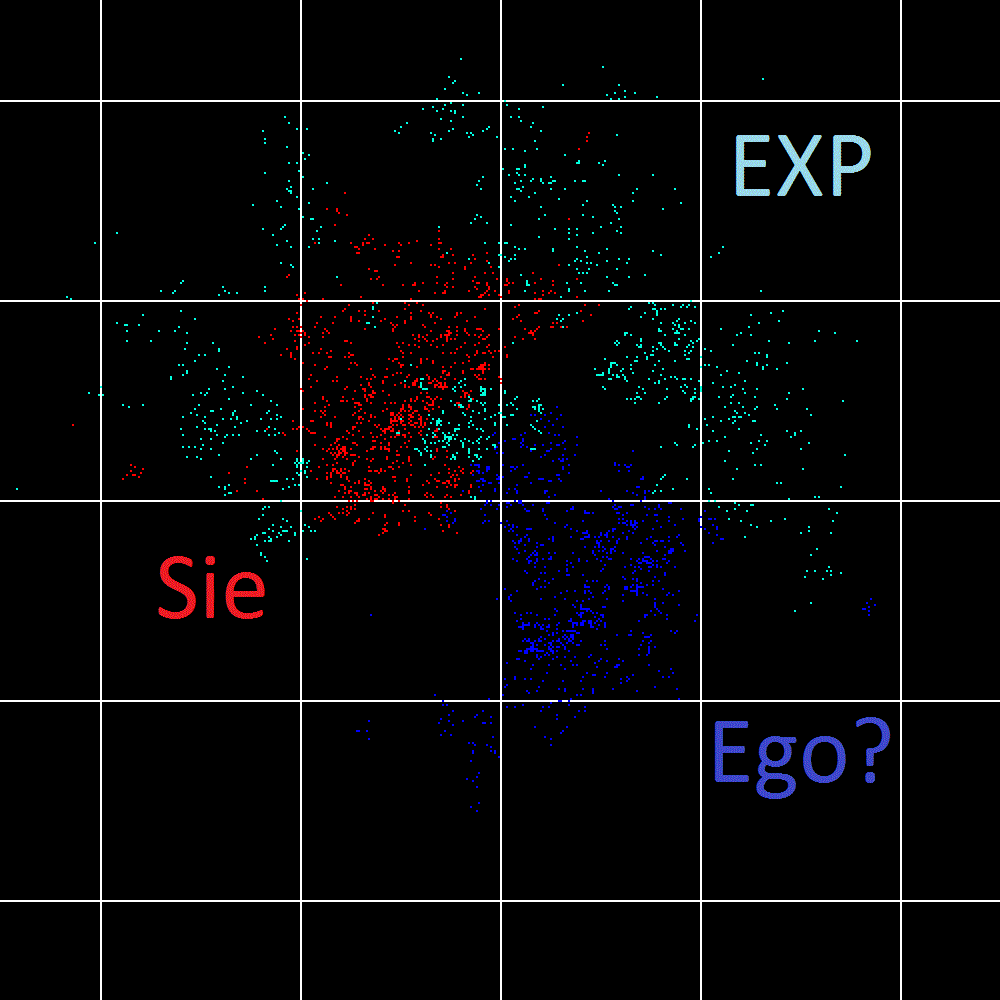 (I never did figure out who NCLN were...)
Sie, now being surrounded, their best members left and formed a new tribe called ******. EXP and Ego? cheered had a party and continued to attack them. (Soon thereafter, the tribe ****** was disbanded by the mods for speaking in, I believe, it was Turkish) Not to be deterred, those same members started yet ANOTHER tribe called AQ, or Abra Qadabra. With all the switching around, a few of Sie's smaller members were being heavily hit by EXP and Sie's frontlines were slowly being pushed back by Ego?. (mostly because Thorjan had left and joined MagicX)
Speaking of tribe-switching, when Sie disbanded, EXP took in some of their members
Back to the war...
Here's the current situation and stats-
Ego?
Side 1:
Tribes: Ego?
Side 2:
Tribes: AQ
Players: THORJAN
Timeframe:
Forever
Total conquers against opposite side:
Side 1:
35
Side 2:
8
Difference:
27
Points value of total conquers against opposite side:
Side 1:
272,639
Side 2:
44,651
Difference:
227,988
EXP
Side 1:
Tribes: EXP
Side 2:
Tribes: AQ
Players: THORJAN
Timeframe:
Forever
Total conquers against opposite side:
Side 1:
16
Side 2:
47
Difference:
31
Points value of total conquers against opposite side:
Side 1:
107,702
Side 2:
345,906
Difference:
238,204
World 1; War (Sie/EXP/Ego? -- Part 2)
2 weeks have passed, and the war is still going on. I recently chose to leave Ego? due to them deciding to mass recruit to fill in K55. On the other side of the world, AQ, (the current name of Sie's offshoot's offshoot
) is doing well against EXP and Ego? (though Ego? has done very little other than mass nuking certain villages every once in a while) The war started out good for EXP, but it's quickly take a turn as AQ is gaining ground on EXP's thin frontlines.
In the meantime, MagicX has now allied itself with AQ and has begun attacking EXP in K45.
2 Weeks later, EXP can no longer take the kind of hits it's taking, and (from what I understand) 2 barons from EXP have quit. As a result, EXP slowly collapses, leaving 3 superpowers left in the world- AQ, Ego?, and BJ. (let's face it, MagicX doesn't qualify as a superpower
)
Finally, as you can tell from that last map, several rim tribes are picking up steam, such as ~SD~... perhaps territory disputes will lead to a war between BJ and ~SD~... We can only hope
Recorded Maps
Milestones
Again, I'm not a perfectionist when it comes to rough drafts, so I'll end it there. If there's any super major events I missed, (not likely) please tell me so I can add it.
Last edited by a moderator: